by Lee Widener
For the third edition of Bizarro Music, we travel across the sea to jolly ol' England, to profile Vivian Stanshall.
"Vivian Stanshall was an English singer-songwriter, musician, author, poet, and wit, best known for his work with the Bonzo Dog Doo-Dah Band…"

– Wikipedia
Like many other bands of the time, Stanshall met his fellow bandmates (one of whom turned out to be Neil Innes, who later went on to become the musical composer for Monty Python and the Rutles) in art school. They came up with the unusual name for their band by using the William S. Burroughs technique of cutting up phrases on pieces of paper and arranging them randomly. Once such combination turned up "Bonzo Dog Dada." They later changed the name to Doo-Dah because, as Stanshall explained it, "I got tired of explaining what Dada was."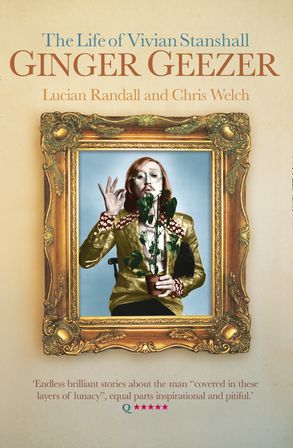 The band initially performed old songs from the 20s and 30s they learned from old 78 rpm records they bought for a penny apiece and gained a following. They released a few singles of their versions of these old tunes, but they failed to make an impression. In 1967 they were approached by Geoff Stevens, who had a hit with his retro-sounding composition "Winchester Cathedral," to become the touring version of his "New Vaudeville Band." The Bonzos turned him down since they didn't want to lose their own band's identity. They were dismayed shortly thereafter to find Stevens had stolen the Bonzo's costuming style and copied their stage act. People were starting to refer to them as a "New Vaudeville Band" knock-off.
They knew they had to make some changes in order to survive, so they started doing original numbers. Stanshall was friends with the Beatles, and the band was invited to appear in their new film "Magical Mystery Tour." Around the same time, they were hired as the house band on the television show "Do Not Adjust Your Set," which also featured future Monty Python members Eric Idle, Michael Palin, and Terry Jones. It was during this period that Shanshall's songwriting and performing took on a Bizarro quality. Just listen to the lyrics of this song "Canyons of Your Mind" which are full of dreamlike imagery and hilarious wordplay.
Another truly Bizarro number is "The Intro and the Outro" which deftly satirizes those long intros and outros where bands introduce every member of the band by name. The joke here is there's no actual song- just the intro and outro of a seemingly endless number of band members.
Due to this weekly media exposure and the startlingly original output of the band's songwriters, Stanshall and Innes, they became quite popular. They toured the United States, opening for the Who and the Kinks. Another reason for their popularity was their onstage lunacy. Elaborate costuming, bizarre props and sets, and even, yes- robots, as well as an anarchic spirit where anything could happen, made a Bonzo show something not to be missed.
During their second tour, they decided to break up the band. Stanshall had an increasing problem with stage fright and became addicted to valium to combat it, and there were problems with the band's managers. The band decided to go their own ways while they still remained friends. After a short break, Stanshall returned to recording and formed several short-lived bands, some of which were even more Bizarro than the Bonzo Dog Doo-Dah Band.
Stanshall continued his creative output throughout his life. He appeared as the Master of Ceremonies on the Tubular Bells album. He created a spoken word piece called "Rawlinson's End," which satirized English country life, and was critically acclaimed. It appeared in segments on BBC Radio, and was later made into a film starring Trevor Howard, Patrick Magee, and Stanshall himself. He narrated a recording of "Peter and the Wolf," and sang on many artist's records.
In 1980 he bought a Baltic trading boat and converted it to a seafaring theatre. He and his wife Ki wrote 27 new songs for "Stinkfoot, a Comic Opera." Mooring the boat in Bristol, England, he formed the Crackpot Theatre Company, hiring street musicians and local actors to perform the piece. Stanshall wrote, directed, designed the sets, costumes, and even the hairstyles. Stinkfoot garnered great reviews.
Stanshall died tragically in a fire while he slept. Many in England consider him a national treasure. He gave us some of the craziest, freaky music in the popular realm. A true Bizarro.
Below is a documentary on Vivian's life. If you have the time, it's quite wonderful and has some clips from Stinkfoot which are fascinating. As always, I'd love to read your comments, and let me know what Bizarro music you'd like to have featured.
---
Lee Widener is a lifelong collector of weird music. For ten years he ran the internet radio station NeverEndingWonder Radio, which specialized in odd, unusual, freaky and bizarre music, and still runs a small Halloween themed radio station, which can be found at Welcome to Weirdsville. He is the author of "David Bowie is Trying to Kill Me!" and "Rock 'N' Roll Head Case" published in October 2015 by Eraserhead Press.
This post may contain affiliate links. Further details, including how this supports the bizarro community, may be found on our disclosure page.