by Tracy Vanity
Watching horror movies is a staple all year for most of us and triples on Halloween. With all this extra horror film viewing comes the lists!
Most disturbing, best Halloween 80's nostalgia, best ever period! Since there are lists galore of best horror films to watch, and do feel free to post your favorites on the comments, I wanted to compile a list of best horror porn.
There are loads of horror porn films out there, mostly parodies of horror movies.
With porn parodies becoming more and more popular, this is definitely not a comprehensive list of all the horror porn out there. These are just some of my favorites:
1) Re-Penetrator (Burning Angel)
A parody of  Re-Animator, this is by far the best horror porn ever made. Once a hot dead chick, played by Joanna Angel, is penetrated with some glowing green goo by Dr. Breast, she becomes a sex-craving zombie that fucks the mad scientist to death. Filled with the bloodiest sex scenes I've ever seen, this movie won an AVN award which is the equivalent to winning an Oscar in the porn industry. Re-Penetrator is a Halloween horror porn classic.
2) Evil Head (Burning Angel)
There are a lot of Burning Angel movies on this list simply because they do make the best horror. It helps that this alt porn company is made up of fans of the genre. Tommy Pistol's performance as Ash is a solid homage to Bruce Campbell. There is also a really hot dendrophilia scene.
3) XXXorcist (Burning Angel)
Ok, I have to paste the plot synopsis from the DVD:
Mrs. MacFeel (Kylee Kross) looks on helplessly until she succumbs to the evil and becomes possessed as well. Father Merkin is forced to fight for his life…with his genitals.

Besides copious amounts of demonic possession, green vomit, head-spinning and bed-floating, the film features the unique religious sex toys from Divine Interventions, such as the "Jackhammer Jesus" dildo , the "Virgin Mary" dildo, and of course, the "Baby Jesus Butt-Plug."
I am one of the few people who thought The Exorcist was boring, making XXXorist loads better than the original!
4) Porn of the Dead (Punk Productions)
I love porn titles. Half the fun of writing up these reviews are the porn puns. Porn of the Dead is the goriest porn film I've ever seen. It might actually tie with Re-Penetrator as best horror porn ever now that I think about it.
There's a lot of zombie sex which is technically necrophilia. With zombies dying more than once and having more sex. It's well put together and the plot is your typical zombie plot. There's even a very…chewy scene that might ruin your hard-on or enhance it, depending on how fucked up you are.
5) The Human Sexipede (Evolution Erotica)
Of course there would be a Human Centipede porn parody! If it weren't for the hardcore sex, I'd hardly be able to tell the difference between this and the original.
6) A Wet Dream on Elm Street (Tom Byron Pictures) vs. Nightmare on Dyke Street (Fresh Video) vs. A Nightmare on Twink Street (Bare Twinks)
I've only watched A Wet Dream on Elm Street but there are 7 parodies of this classic horror franchise!
aw A XXX Parody: The porn biz is in a panic. A killer is on the loose putting porn stars in diabolical sexual situations. The sole survivor (Amber Rayne), while being interviewed, gives a clue which delves you deeper into the story of the madman behind the puppet. It`s up to Detective Roush (James Bartholet) and his partner Detective Humpsey (Syren DeMer) to catch him in this all-star comedic thriller adaptation.
There is also a gay bondage porn version called Raw & Raw 2.
8) Silence of the Lambs XXX Parody (Zero Tolerance)
What makes this movie so great is the guy playing Hannibal. I was laughing so much, I forgot to masturbate.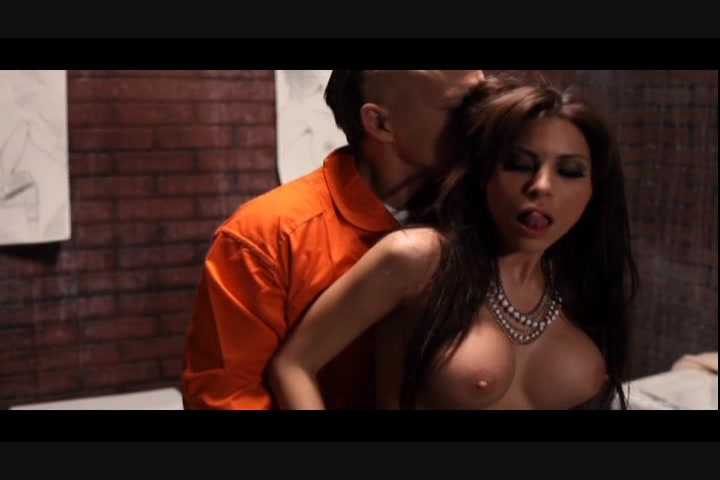 9) The Texas Vibrator Massacre (Punx Productions)
An awesome homage to the original, The Texas Vibrator Massacre is shot with that grainy 70's splatter look and has an actual story line. Instead of a chainsaw, Leatherface has a…you guessed it…vibrator! Rob Rotten is the Rob Zombie of porn. He sure loves him some gore sex!
10) Beyond Fucked: A Zombie Odyssey (Smash Pictures)
This horror porn isn't a parody of a specific movie, just of zombie flicks in general. Here is the premise:
Bonnie Rotten stars in her first leading adult role as a bounty hunter and one of the last few survivors left in the zombie apocalypse. After a pill was invented to cure the world's obesity dilemma turned everyone who's taken the drug into crazed uncontrollable flesh eating psychos
11) Gayracula (HIS Video) vs. This Ain't Dracula XXX (Hustler)
Gayracula is a classic 80's gay porn with an original plot that really doesn't make sense. It starts off in the 1700's and ends up in the 80's with Gayracula falling in love with some virgin twink. There is also rivalry sex with "Marquis de Suede" and Gayracula turns into a rubber bat. The special effects are very Ed Wood. BTW did you know Ed Wood's last film was a 70's horror porn called Necromania? I haven't been able to obtain a copy.
Speaking of special effects, This Ain't Dracula XXX comes in 3D! It's based on Bram Stoker's Dracula and if you check out the trailer, does a damn fine job of matching the nuance of the Coppola film.
12)  Halloweiner: Friday the Fuckteenth (ASG Entertainment)
I haven't watched this one but it goes on the list because the name made me laugh. Here is the synopsis:
"Someone is playing a sick copy-cat joke at Crystal Lake… killing off some of your favorite porn stars one by one. Nevertheless, this doesn't stop these horny studs from busting creamy and hot loads. When these guys get together, any Friday is Halloweiner. They really get spooked when the hard cock meets the tight asshole. Are you ready for this?"
13) Halloween XXX Porn Parody (Smash Pictures) vs. Official Halloween Parody (Zero Tolerance)
These two parodies came out at the same time. I remember that epic horror porn parody battle like it was yesterday. As you may have noticed, some movies have several porn parody versions but this was the first time 2 horror porn parodies were released simultaneously.
There was a bit of a rivalry going on of course as to which one was better. I've watched both of them and they were both enjoyable. For what it's worth, XCritic gave Halloween XXX Porn Parody a glowing review, saying,
I have watched many parodies, take offs and recreations of mainstream movies, but very few deliver in the content of the story, script, sets, graphics, acting and sex that flows so naturally with each moment as "Halloween XXX Porn Parody". This movie is not just your average "XXX Porn Parody", but it is a movie in itself that will keep your attention during every moment and at times wondering what will happen next. If you enjoy porn with a script, mainstream video quality, fantastic acting and fucking great sex, then this is one you will enjoy. The movie even plays out its entirety. Smash Pictures, puts a different and unique twist as it has over ten minutes of the ending story part of it all, even after the last sex scene.
There is also a 3rd Halloween parody called This Isn't Halloween… It's A XXX Spoof!
Dishonorable mention goes to The Twilight Zone Parody. It's not even in black and white and has no "Twilight Zone" vibe at all. Someone needs to get on making a proper porn tribute to "The Twilight Zone!"
So I hoped I've helped add some porn parody classics to your Halloween horror movie marathon rotation. Enjoy!
This post may contain affiliate links. Further details, including how this supports the bizarro community, may be found on our disclosure page.