Jeff Burk is the author of several bizarro books, the host of the Jeff Attacks Podcast, and watcher of too many movies.
It's that time again – my favorite movies of 2017!
Want to see what I liked in previous years? Check out these links:
2000-2009, 2010, 2011, 2012, 2013, 2014, 2015, 2016
Another year and a shit ton more awesome movies. Film in 2017 seemed to be dominated by genre mashups. Horror, sci-fi, fantasy, and drama were combined in so many unique and interesting ways this year and those mashups dominated my list of personal favorites.
This was also a year in which horror killed at the box office. SPLIT, GET OUT, and IT were surprise commercial and critical successes on a scale that no one saw coming. But only one of those three made my list.
One thing that was curious to me was this was the first year of doing these lists in which all of my choices were in English. I do watch a lot of foreign films from all over the world but this year all my picks were from English speaking countries. Not sure why, just something interesting that I noticed.
Every year there is some debate in the comments on how I come up with my list, in particular, the question of how I determine release dates. Most movies it's easy to pinpoint the year they were released it but sometimes there are releases that have festival screenings up to a year before the general audience can see it. If a movie had a limited release last year but the wide wasn't until this year and that's how I saw it – I count it. If it had a limited release that I saw but it's not wide until next year and I saw it – I still count it. It's not a perfect system but it's what I got.
With that out of the way, let's move on to my favorite movies of 2016! Like I said, there was a ton of movies that I liked this year and they couldn't all be on my top ten. Here's some that almost made the cut.
HONORABLE MENTIONS: THE VOID, BESETMENT, MAYHEM, HAPPY DEATH DAY, and 1922.
Check out those movies. They were all seriously good. But they weren't my favorites of 2017.
These were.
10: mother! (Darren Aronofsky, United States)
Aronofsky's latest baffled mainstream audiences and baffled me to how it got a mass release. This is high-level surrealism that sits comfortably next to the work of Jodorowsky, Lynch, and Buñuel. Basically, a retelling of the entire Bible in the confines of one house but this is no religious epic. It uses its framework to explore the nature of art, relationships, and assault the viewer with one epic scene of madness after another. Film geeks will be talking about this one for many years to come.
9: 68 KILL (Trent Haaga, United States)
Based on the novel by acclaimed horror/crime/fucked-up writer Bryan Smith and directed by Trent Haaga who helped give the world twisted masterpieces like DEAD GIRL and TERROR FIRMER. This is one mean film. Chip has a problem with falling for beautiful women who just happen to also be completely psychotic. After a robbery that leaves him questioning his morals, he is sucked down into a world of murder, torture, drugs, snuff films, and all sorts of other depravity. This is a real fun one for the sickos.
8: GET ME ROGER STONE (Dylan Bank, Daniel DiMauro and Morgan Pehme)
Wondering how the world of American politics got so fucked-up? Roger Stone wants you to give him credit for it. A fantastic and horrifying documentary of one of America's most effective and devious political operatives. This man has been behind the scenes of the Nixon administration, Reagan's silent majority, G.W.'s failed global wars, and Trump's rise to power. Stone brags about lying to damage his opponents, stoking fear in the populace, and encouraging hatred of those you disagree with. He seems to have no personal agenda other than winning at any cost. This movie is him gloating to the camera about how effective his tactics are while showing off his Nixon back tattoo (seriously). An essential watch for anyone that wants to understand how America got into the position it is in now.
7: CATFIGHT (Onur Tukel, United States)
Two former college friends have gone in completely different directions in life and when they randomly encounter meet again, they hate each other and get into a fight. This kicks off a story that is about nothing more than vengeance and violence as the two characters ruin each other's lives over the course of several years. Darkly funny and viciously violent, this is a wonderful low-budget throwback to the sleazy days of the grindhouse.
6: A DARK SONG (Liam Gavin, Ireland)
A man and a woman lock themselves into a house for months to perform a magical ritual to summon the woman's guardian angel. Because this is a horror film, things don't go quite right. Based on a "real" ritual that Alister Crowley performed in real life, this is the most "accurate" portrayal of occult practices ever put to film. Moody and deliberately paced, this film takes it's time to break down reality around the characters and the viewer. If you like slow-burn horror, this is a much watch.
5: BRAWL IN CELL BLOCK 99 (S. Craig Zahler, United States)
The most batshit violent movie of the year! Vince Vaughn stars as a former boxer who ends up in jail. While there is wife is kidnapped and he is blackmailed into being an assassin on the inside if he wants her to live. There is nope hope of getting out, there's only one insane scene of violence and murder after another. Absolutely breathtaking in its commitment to going over-the-top. A wild ride and an absolute blast to watch. This was THE movie of the year if you're looking for non-stop carnage.
4: THE SHAPE OF WATER (Guillermo del Toro, United States)
Del Toro may be the most visionary director working in mainstream Hollywood. His latest is a love story between a cleaning lady at a high-level military research faculty and a monster that is basically the Creature from the Black Lagoon. Set during the cold war paranoia of the sixties, this film is a visually stunning and emotional joy. Who would have thought that the best feel-good movie of the year would be a romance complete with monster sex? Easily del Toro's best since PAN'S LABYRINTH.
3: GET OUT (Jordan Peele, United States)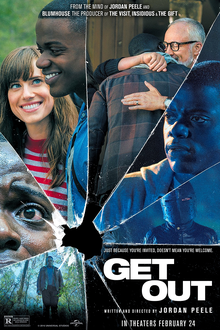 The break-out horror movie of the year is also one of the most culturally and socially relevant horror movies in quite a long time. Taking inspiration from the paranoid sci-fi horrors of the seventies like THE STEPFORD WIVES and INVASION OF THE BODY SNATCHERS, Peele explores the current day race issues of modern America. A white girl brings home her black boyfriend to meet the family but something is very wrong. To say more would spoil this innovative and just plain fun tale of horror. This brutal satire of "post-racial" liberalism has catapulted director/writer Peele to one of the most exciting new voices in genre film.
2: DAVE MADE A MAZE (Bill Watterson, United States)
In many ways, this is the best adaptation of HOUSE OF LEAVES that we didn't know we wanted. While his girlfriend is away for the weekend, a man builds a cardboard maze in his living room but becomes lost in it. When his girlfriend comes home she amasses a group of friends to venture inside and save him from his own creation. A brilliant and imaginative story about artistic creation and how it can consume you and everyone you love. What really makes this movie stand-out is the insanely brilliant set-designs and effects that are all done practical and in camera with cardboard, yarn, and string. The most bizarro movie of the year is also one of the most visually original films in decades. An absolute triumph of low-budget ingenuity.
1: COLOSSAL (Nacho Vigalondo, United States)
The most stunningly original film of the year. A woman who has wrecked her life due to alcohol goes back to her hometown to try and start over. There she discovers that when she stands in a specific playground at a specific time, a giant monster appears in South Korea that mimics all her movements. This film was sold as a quirky comedy, and while it does have it humorous moments, this film takes it absurd premise deathly serious. The movie is a dark and depressing exploration of addiction, depression, abuse, the need to be loved, and how one deals with a life that is a failure. Easily the most emotionally raw film of the year that tackles personal fears through giant monsters.
Fucking brilliant.
WHAT I'M LOOKING FORWARD TO IN 2018
THE ENDLESS (Justin Benson and Aaron Moorhead)
Benson and Moorhead are two of the most exciting new creative voices in horror. They are responsible for the mind-blowing RESOLUTION and SPRING. The third film has been touring the festival circuit but I was unable to see it. Hopefully, in 2018 I can unfuck that.
So that's my list for 2017. Agree? Think I'm full of shit? Let me know in the comments.
This post may contain affiliate links. Further details, including how this supports the bizarro community, may be found on our disclosure page.